Welcome to
EC Movers Windsor
EC Movers Windsor offers affordable, professional home and apartment moving services in the Windsor. For a free moving quote, call now!
Welcome To EC Movers Windsor
Ec Movers is excited to bring our over 6+ years' of professional moving experience to Windsor Essex Area .
As a full service moving company. EC movers Windsor offer packing and unpacking, moving a hot tub, Piano, Pool table. Our services We offer hourly rates or flat rates Commercial and Residential Moving Short distance or long distance moves Assemble and disassemble of items Loading or Unloading of trucks or pod. We are fully insured on items. Family owned business Reputed and we'll known business Customer satisfaction Best reviews.
EC Movers is a Global Logistics Company located at the Windsor/Peel region. We established our firm 5 years ago and ever since have been serving over a thousand of happy clients. We don't believe in saying it alone. We prove it by actions. Our services enlist home moving, long distance moving, office moving, packing service, assembly service and delivery service.
We have served our clients with best packages and continue to do the same. Our team comprises of professionals who are equally keen in serving clients with their impeccable services. Our team is more of a family and we have extended our family size with our satisfied clients. We would love to serve you. Your satisfaction means a lot to us and we appreciate every feedback that we get from our clients. This is how we have been evolving over these years and aspire to continue to do the same.
For any Logistic service, Contact EC Movers. We would be glad to assist you in your new journey. To know more, Call us now: 519-566-8933
Thankyou Windsor and Essex county for the last 6 years of Moving with you . We will get through this together and we look forward to 6 more! All the best to all our customer past, present, future. Keep safe! Make Schedule
Whenever you think you need our service, just give us a call and we'll be glad to book your appointment.
Start Discussion
Discuss your requirements as we give you a personalized quote so that you experience a hassle-free service.

Full-Service Moving Options
We offer a comprehensive range of moving services, from packing and loading to unloading and unpacking
Service
Check Our Services
Residential Moving Services Windsor
Request a moving quote today to find out which residential moving services windsor are right for your specific moving situation.
EC Movers has been transporting family household goods and valuables with precision, speed, and care for the last 5 years. Today, our Windsor City headquarters offers a full-service moving team, which caters to local, interstate and long distance residential moving, in addition to taking on specialty item moves.
Customer Service Leader
When you decide to use EC Movers for your next move, you are assigned a residential moving specialist, who is a human calendar of sorts as he or she will coordinate all of your dates and paperwork. As a single point of contact, your move coordinator will keep you in the loop and assist you with obtaining and maintaining organization, all while monitoring and keeping you on track. As the date of your move gets closer and closer, your coordinator will be your easily accessible go-to person and be there to field last minute questions, troubleshooting issues and any other ad hoc or unforeseen obstacles.
Residential Moving Amherstburg, Residential Moving Kingsville, Residential Moving Leamington, Residential Moving Essex, Residential Moving LaSalle, Residential Moving Tecumseh, Residential Moving Lakeshore
Commercial Moving Windsor
We are number one moving company in Windsor Essex county we serve our customer with professional crew and well equipment to move their goods
professional commercial moving companies will also execute your relocation quality and carefully , so your business can get up and work again . that's why EC movers are available 7 days a week.
Ec movers are most demanded Moving company in Windsor Essex county , when choosing a Moving company to move your Commercial goods be careful to choose qualified specialists from multitude of movers in the market.
Commercial Moving Amherstburg, Commercial Moving Kingsville, Commercial Moving Leamington, Commercial Moving Essex, Commercial Moving LaSalle, Commercial Moving Tecumseh, Commercial Moving Lakeshore
Office Moving Windsor
Office Moving Windsor – we got special equipment's and skills to move any type of office furniture, computers and office chairs etcetera
Furniture assemble Windsor :- our experienced movers can help you to assemble and disassemble your furniture on its place on time.
Commercial Equipment Relocation Windsor :- we got you covered to move heavy industrial machinery and small electronics device.
Furniture and Appliance Moving Windsor :- we will move your furniture and any large appliance carefully and efficiently with proper equipment and technique.
school and university movers Windsor :- our movers are experienced in moving large institutions.
EC movers provide you all sizes of truck with all possible moving equipment including furniture platform dollies, moving blankets, straps, carts etcetera
if you decided to do the packing your self we provide you boxes and bins. please try not to over pack boxes. proper packing will helps us to pack the truck really good and improve the safety of items .
if you are looking for most reliable commercial moving company to assist you with moving service you won't find an alternative to quality provided by Ec Movers
PIANO MOVING SERVICES WINDSOR
Moving a piano can be stressful and expensive. But with EC Movers, you don't have to worry about either!
We offer a stress-free and affordable way to move your beloved piano. Our professional movers will take care of all the heavy lifting while you relax at home or work. And we won't charge an arm and a leg for it either!
You deserve peace of mind when moving your most prized possession – your piano. That's why we're here to help make sure that everything goes smoothly on moving day, so you can enjoy the rest of your life without worrying about how much money you spent on our services.
Contact us today for more information on our Piano Moving Services in Windsor!
Piano Moving Amherstburg, Piano Moving Kingsville, Piano Moving Leamington, Piano Moving Essex, Piano Moving LaSalle, Piano Moving Tecumseh, Piano Moving Lakeshore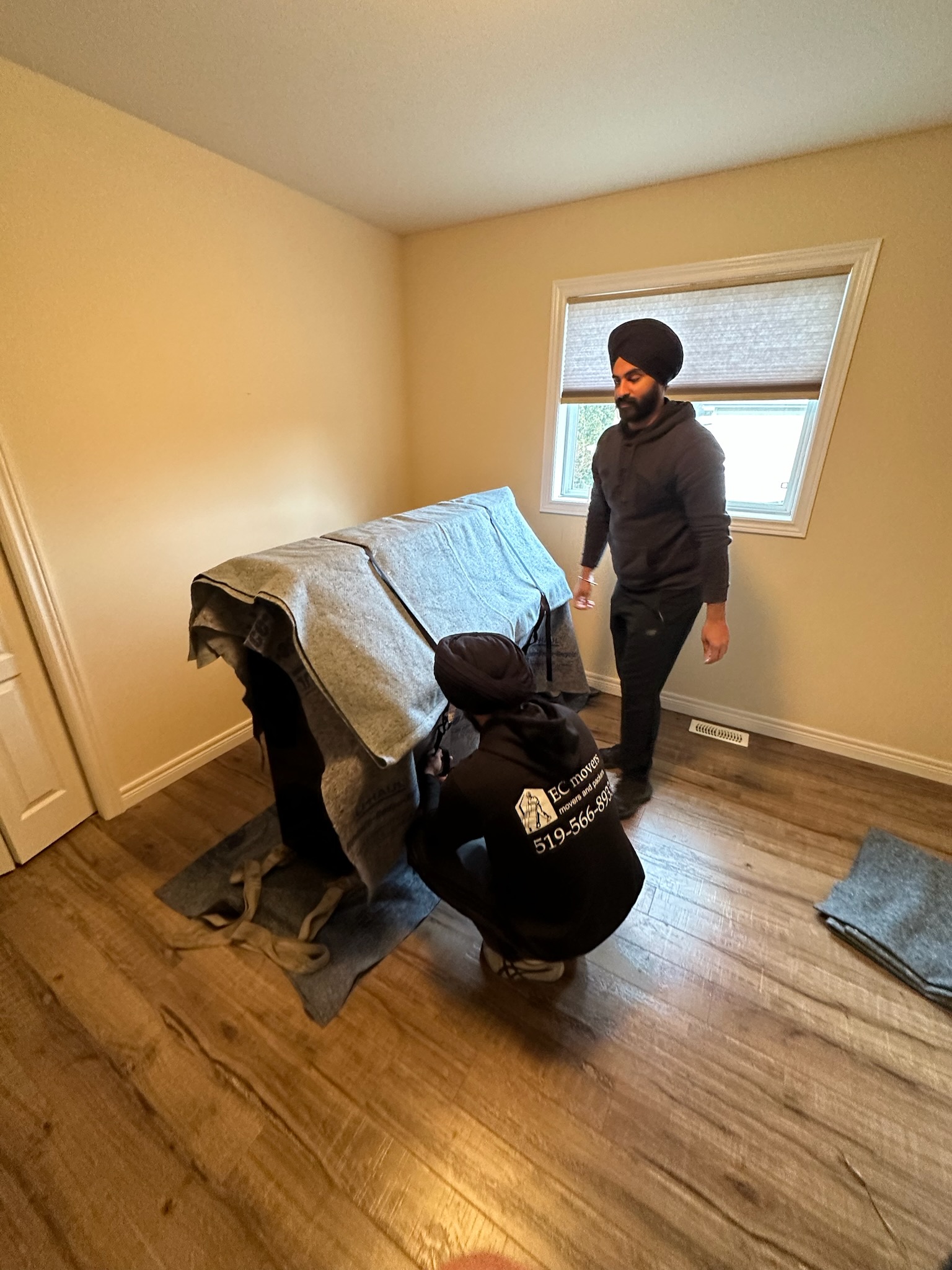 House Moving Windsor
If you are planning to move to a new home, or you are moving to your very first home, downsizing, or moving closer to Windsor opportunities, whatever your reason, EC Movers moving services in Windsor will help you move to your new place.
Our professional movers carefully pack and load each item for maximum protection during the move. Whether you require transportation, packing, shipping or storage, you can customize our residential relocation moving services to suit your needs. If you have items that are difficult to move, up or downstairs, through narrow doors, or even through windows will help you choose the safest and most practical option. From large and bulky items such as pianos to small and priceless family keepsakes, we take great care with each item so it reaches your new destination safely.
Follow your dreams, take up those once-in-a-lifetime opportunities and explore new horizons, whatever the reason, wherever it may be, call us. We are here to help you on your way.
House Moving Amherstburg, House Moving Kingsville, House Moving Leamington, House Moving Essex, House Moving LaSalle, House Moving Tecumseh, House Moving Lakeshore
Delivery Service Windsor
EC Movers has been serving the Windsor area for over 5 years. Many of our drivers have been with us over a decade or more. This provides consistency and excellent quality in our services that built trust and credibility with many customers. Available 24/7, EC Movers offers same day delivery under Windsor including will call pick ups, parcels, documents, product distribution, medical, bio, legal and more. Get your deliveries done fast and cheaper in Windsor! 24/7 quick responses, fast pick ups from your call. To start, get an instant quote or call (519) 566-8933 for a same day delivery anywhere in Windsor.
Delivery Service Amherstburg, Delivery Service Kingsville, Delivery Service Leamington, Delivery Service Essex, Delivery Service LaSalle, Delivery Service Tecumseh, Delivery Service Lakeshore
GYM EQUIPMENT MOVING COMPANY WINDSOR
Moving exercise or gym equipment is typically complicated. Especially when there are space and access limitations. Gym equipment can be rather bulky, oversized, and heavy. A professional exercise equipment moving company will have the experience and expertise to move your exercise equipment safely and efficiently.
When searching for a moving company to relocate your gym equipment, be sure to ask about their experience in handling such items. Ask for references and view pictures of past projects if possible. Make sure the exercise equipment moving company has access to the proper equipment and resources needed to get the job done right.
Preparing your equipment for the move is also important. You will need to disassemble any equipment that can be taken apart. This includes removing any loose parts and detaching cables or wires. Be sure to keep all hardware and manuals in a safe place so you can easily reassemble your equipment after the move.
If you are not comfortable disassembling your equipment, or if it is too complicated, the exercise equipment moving company can do it for you. However, this will add to the cost of the move.
In order to avoid any damage during the move, be sure to wrap all equipment in protective padding and boxing materials. This will help ensure that your equipment arrives at its destination in the same condition it left in.
The above is just a basic outline of what to expect when moving exercise equipment. Be sure to discuss all details and concerns with your chosen moving company beforehand. With proper planning and execution, your gym equipment will arrive at its new location safe and sound.
Gym Movers Amherstburg, Gym Movers Kingsville, Gym Movers Leamington, Gym Movers Essex, Gym Movers LaSalle, Gym Movers Tecumseh, Gym Movers Lakeshore
Pool Table Movers Windsor
Here at EC Movers for Pool Table Move, we understand that the most important part of buying a new or used pool table is how well that it is put together. We have set up thousands of pool tables throughout the years and have seen everything. Some of the tools that we use to ensure the highest level of quality include a machinist level for accurate leveling, a beeswax mixed with resin compound for filling in holes and seems, and composite wood shims that are moisture resistant and don't compress as easily as traditional cedar shims. We proudly serve Windsor and surrounding areas.
At EC Movers, we specialize in pool table move, pool table setup or installation, and pool table recover. We have the ability to offer the lowest rates in the area because we stay extremely busy. Feel free to give us a call with any questions that you may have. Proud to be the #1 Pool Table Movers Windsor
Pool Table Moving Amherstburg, Pool Table Moving Kingsville, Pool Table Moving Leamington, Pool Table Moving Essex, Pool Table Moving LaSalle, Pool Table Moving Tecumseh, Pool Table Moving Lakeshore
Professional Packing Services in Windsor
Moving from an old apartment to a new one can be very exciting, and it can very well be your first step to a new beginning in your life. Moving can be fun and all, but some part makes moving less fun. What part is that? Packing.
One of the most crucial steps in moving is packing, where you need to pack your precious belongings safely to be transported via the truck or van. You may ask your friends or family to come and help you out. But without the help of a professional, packing can't be done effectively.
Hire EC Movers in Windsor for the best packing services in town. Our packing services specialize in bringing you high-quality services at an affordable price.
Professional Packing Service Amherstburg, Professional Packing Service Kingsville, Professional Packing Service Leamington, Professional Packing Service Essex, Professional Packing Service LaSalle, Professional Packing Service Tecumseh, Professional Packing Service Lakeshore
Long Distance Moving Services Windsor
Long distance moving services present distinct challenges that test the mettle of even an experienced moving company. But our extensive experience in every aspect of the moving industry makes us as a leading long distance moving company in Windsor, whether you are moving to Calgary or all the way to Toronto or Halifax.
We know how to make even the most daunting move run smoothly, taking care of everything for you so you are free to look after other important things. And with over 5 years of experience to drawn on, you can be sure your possessions will get where they need to go safely – whatever the destination is.
Long Distance Moving Services You Can Trust
While a long distance move means a few additional details to manage, the core elements of timeliness, courteousness, and professionalism remain the same. That's why you can expect the same high standard for our long distance moving services as you would with any other type of move.
Whether they are moving house or moving business, our long distance service features a range of expertise that ensures the smoothest possible relocation.
Long Distance Moving Amherstburg, Long Distance Moving Kingsville, Long Distance Moving Leamington, Long Distance Moving Essex, Long Distance Moving LaSalle, Long Distance Moving Tecumseh, Long Distance Moving Lakeshore
Local Movers Windsor
Home moving is a one-time experience for all of us. All of us have dream to move into our own dream house. At some point of time in our lives, we do accomplish our goals. It is then that our dream home is right in front of our eyes. Our desperation to shift into this new house is very much natural.
We at EC Movers, value your emotions associated with your home. Thus, we aim to provide all our clients with impeccable services. You should enjoy the moving experience, that's what we hold. We offer you services that would give you a hassle-free moving phase.
Advantages of Local Home Moving at Windsor
Local home moving with EC Movers has a couple of benefits to count on. Enlisting some as follows:
5 years of experience in Home Moving
Trained Professionals
Reliable and Trustworthy Service
Hassle-free Home Moving
Seamless Experie
Local Movers Amherstburg, Local Movers Kingsville, Local Movers Leamington, Local Movers Essex, Local Movers LaSalle, Local Movers Tecumseh, Local Movers Lakeshore
Hot Tub Movers Windsor
Hot tubs are a perfect way to unwind after a long, stressful day, but when it comes time to move hot tubs, it can be a very challenging task! Hiring a professional when moving a hot tub will get the job done quickly and reliably. EC Movers movers will take care of the hot tub moving process completely, draining the hot tub before disassembling and taking care of all the heavy lifting. We pair you with the best local Windsor hot tub moving companies. Movers that are qualified, dedicated, safe and careful and have years of experience.
Hot Tub Movers Amherstburg, Hot Tub Movers Kingsville, Hot Tub Movers Leamington, Hot Tub Movers Essex, Hot Tub Movers LaSalle, Hot Tub Movers Tecumseh, Hot Tub Movers Lakeshore
Quote
Book Now Your Moving Today
FAQ
Frequently Asked Questions
You get the truck, your movers, and all the accoutrements: moving blankets, plastic wrap, dollies, etc.
No hidden fees! All gas & equipment, insurance & taxes and everything else are included in the hourly cost of your move. Your hourly rate starts when we arrive at your old place and ends when we finish up at the final destination, unless your job has travel time.
We like being able to move anything you need moved, but there are a few exceptions for safety reasons. We can't move the following: hazardous chemicals & paint; guns & ammunition; grand pianos; pool tables; most hot tubs. That's it! We can handle pretty much anything else.
Yes, we would love to help you move your large appliances. However, due to insurance restrictions, we are not able to connect or disconnect your water or gas hookups on these appliances.
Yes, we can disassemble, move, and reassemble almost any pool table (excluding 1 piece slate tables). We do not re-felt tables or level tables, this will need to be handled by either the owner or a pool table company.
Testimonials
What they're saying About Us
I had a wonderful experience with EC movers. They came the next day and moved a piano into my apartment (all the way up 18 stairs). They were available by text which was also a great benefit allowing me to show pictures of what I wanted moved and where I needed it to go. They were very professional and were great at communicating.
Jenna Smith
EC Movers is an amazing moving company. They were able to move my heavy hot tub with ease, and the movers were very nice and professional. They also made sure that all my belongings were packed securely to prevent any damage during the move. I highly recommend them to anyone who needs help moving big items like this.
John Ray
Excellent service! This was the best moving experience ever. The booking was very seamless. Movers arrived right on time. They were very professional and courteous. We had lot of heavy stuff like gym equipments, massage chair and huge couch. They did a wonderful job not only disassembling the stuff from old place but also assembling everything so meticulously at new place. They went above and beyond making sure we were totally satisfied. I believe what sets them apart is that they had lot of patience when we requested them to rearrange the stuff. I highly recommend EC Movers!
Shilpa Singh
If you need help moving your pool table, EC Movers is the best company for the job. The movers were very skilled and efficient, and they made sure that everything was set up correctly. They also gave me some helpful tips on how to maintain my table. I highly recommend them to anyone who needs this type of service..
Brandon Hernandez
Exceptionally wonderful experience! They were all kind, understanding, and diligent in addition to being professionals. They finished the full relocation for us in under 48 hours. They prepared everything without wasting a single second. Everything was carefully wrapped and handled. I'd never used a moving company before, and everything was fantastic! They are definitely someone I would hire again, and I would suggest to anybody. Good job karan and crew
Harinder Singh Randhawa
The workers that showed up were extremely helpful and were able to work past several different obstacles. They were diligent when packing up our furniture and belongings in the truck. It gave me peace of mind knowing that my stuff was securely stored in the truck for the one hour drive we had to our new home. Sure enough, all of our stuff was brought into our new place as if it was untouched. Amy was a great help making sure we were fully prepared and helped us save money by hiring the correct amount of movers! Definitely recommend using EC Movers for your next move!
Himanshu Sharma
We worked with EC Movers for our move from windsor to Ottawa today and they were amazing! Their crew arrived on time yesterday and were able to finish all the loading including dismantling some furniture in just an hour and a half! They delivered everything today in perfect shape and were quick and efficient with the offloading and furniture assembly as well. The truck was fully ours and not shared. Very responsive, reasonable and friendly people to work with. Definitely recommend picking them for your next move!
Sagar Jangra
EC Movers team is highly professional and friendly. They were considerate and prompt during the moving process, and their pricing was excellent. We had no complaints or issues and would recommend them to anyone in need of moving services.
Guilherme Reale Teixeira Pinto
I recently hired EC Movers to move my piano, and I was very pleased with their service. The movers were very friendly and professional, and they took great care to pack everything securely. They even helped me position the piano in my new home, which was a Great help. I highly recommend them.
Jonathan Long
This is a fantastic moving company that I wholeheartedly recommend! We engaged EC movers to transport our baby grand piano, which another moving company refused to carry with the rest of our goods on the day of our big move owing to a lack of expertise moving such instruments. The three guys from EC movers that we hired to move our baby grand piano were timely, responsive, and did an AMAZING JOB delicately wrapping, handling, transporting, and reassembling our prized possession! We also got a call from the main office on our route to our destination, asking how the relocation was progressing. Excellent experience!
Mandeep Randhawa
I've used EC Movers several times, and they never disappoint. They moved my corporate office smoothly, timely, and professionally. They treat your belongings as if they were their own. Great service, and I will use them again for my residence move in May.
Evelyn Tayane Vieira Da Silva
If you need to move a piano, EC Movers is the way to go. Their team of movers is highly skilled and experienced in piano moving. They handled my piano with the utmost care and made sure it arrived at my new home in perfect condition. I can't thank them enough for their exceptional service.
Davi Henrique Do Carmo Amorim
I recently moved with EC Movers, and it was the best moving experience I've ever had. They made sure everything was put back together exactly how we wanted it, and their pricing was very reasonable. Everyone on their team was polite, responsive, and professional. I would definitely recommend them.
Eric Turner
Moving a pool table can be a challenge, but EC Movers made it look easy. Their team was highly skilled and took great care in disassembling and reassembling my table. They made sure everything was in perfect order, and my table arrived at my new home in excellent condition.
Carlos Eduardo Da Silva Nascimento
EC Movers did an excellent job moving my hot tub. Their team was professional, efficient, and took great care in packing and transporting it. They made sure it arrived at my new home in perfect condition. I highly recommend EC Movers for all your hot tub moving needs.
Rafael Soares De Lima
EC Movers team was very professional and friendly. They were prompt and considerate during the moving process. The price was excellent and there were no complaints or issues. I would highly recommend them to anyone in need of moving services..
Rafael Martins Abdouni
Moving my hot tub was a daunting task, but EC Movers made it a breeze. Their team was punctual, professional, and extremely efficient. They took great care in packing and transporting my hot tub, and it arrived at my new home without a scratch. I highly recommend EC Movers for all your hot tub moving needs.
Victor Hugo Luiz
I have used EC Movers several times now and have never been disappointed. They are a customer-driven moving company that always puts communication, punctuality, honesty, and care at the forefront of everything they do. Their long-term employees are exceptional and truly set them apart.
Jerry West
The team were amazing. I used EC movers because they had great reviews - they lived up to these in every measure. The guys were really professional, and took great care in looking after carpets, furniture, plants etc. They worked incredibly hard and efficiently throughout the day, and were friendly and polite. Using ec movers made the day so much less stressful. I highly recommend using them.
Karanvir Singh
I was very impressed with the service provided by EC Movers. They moved my hot tub with ease, and their team was friendly and professional. They made sure everything was packed and transported safely, and my hot tub arrived in perfect condition. I highly recommend EC Movers for any moving needs.
Randy Gregory
Moving a piano is no easy task, but EC Movers Windsor made it look easy. The team was knowledgeable about the process and took great care with our piano. They ensured that it arrived at our new home in perfect condition. We were grateful for their expertise and would highly recommend them..
GABRIEL LUIZ DOS SANTOS
It went very well. The guys showed up an hour later than the dispatcher told me they would but that would be my only complaint. They were hard working and very professional. They took great care to not damage any of our belongings. They were also very patient if something was originally placed in one room but needed to be moved to another. I would most certainly use them again.
Jasmine Josan
It was a wonderful experience for me. They moved my apartment items and car from windsor to Brampton. They informed all schedules beforehand and were very punctual to it. And they delivered before the scheduled window. It was a really nice experience. They handled the whole process very professionally. Packing was unquestionable and got everything as it should be!!
Sahil Bhandari
I had a great experience with EC Movers when I moved recently. They made sure all of our belongings were safe and put back together in the right place. The price was good, and everyone on the team was polite and professional.
Leu Erick Marques Pereira
EC Movers made moving my hot tub stress-free. The movers were professional and efficient. They took great care of my hot tub and made sure it arrived at my new home in perfect condition. I would use them again in the future.
Arthur Dos Santos Jesus
We had them move our iron press from one location to another. And they did a great job. Thank you very much. I know it was a very very heavy piece of equipment. Over 800 lbs. WE would highly recommend
Andrew Petley
Today, I had my hot tub moved and everything went smoothly. The movers arrived on time and set everything up perfectly. They even gave me some great advice on how to care for and clean my hot tub. I appreciate their professionalism and would use their services again in the future.
Aaron Foster
They were great, fast, efficient, and friendly. I used them in October They had to deliver heavy furniture to 6 different local locations on the same day. All of the places they delivered the furniture to said they were great. I liked them so much that I used them again a few months later. I was never disappointed with their service.
Gurpinder Singh
I cannot recommend EC Movers enough for their exceptional moving and packing services. Whether it was a local or long-distance move, their team always went above and beyond to make sure the entire process was seamless and stress-free. I was particularly impressed with how they handled my long-distance move, making it feel like a breeze.
Van Blanda
EC Movers Windsor was amazing during our pool table move. The team was knowledgeable and careful, ensuring that everything was done correctly. They took the time to answer our questions and made the process easy for us. We would highly recommend them for any pool table moving needs.
Ivan Henrique
Gallery
Some Photos Of Our Moving
Location:
4632 Bunker Ave, Windsor, ON N9G 3A8, Canada
Open Hours:
Monday - Friday 7:00 AM To 11:00 PM Saturday 9:00 AM To 5:00 PM Sunday : 9:00 AM To 2:00 PM
Call:
Email: